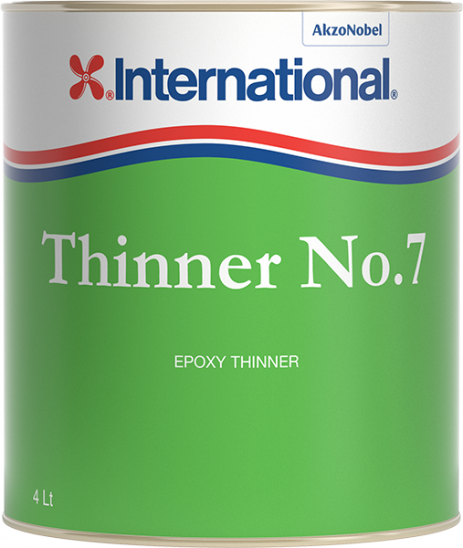 Thinner No.7: Specially Formulated for Thinning Epoxy Products like Interprotect® and Gelshield® 200
No.7 is a specially formulated solution designed for thinning epoxy type products, including renowned brands like Interprotect® and Gelshield® 200. Its unique composition ensures optimal compatibility and performance when working with these epoxy coatings.
In addition to its primary use as a thinner, No.7 also serves as an effective cleaning agent for equipment in conjunction with Interfill 830, Interfill 833, and Watertite. Its reliable cleaning properties make equipment maintenance a breeze, enhancing longevity and performance.
Discover the advantages of  No.7 for epoxy thinning and equipment cleaning. Trust in its specialized formulation to achieve exceptional results when working with Interprotect®, Gelshield® 200, Interfill 830, Interfill 833, and Watertite.
Discover the Versatility of Thinner No.7: Perfect for Thinning and Equipment Cleaning Compatible with All Epoxy-Based Primers and Fillers
No.7 offers a range of valuable benefits that are good to know. It is highly suitable for thinning applications, allowing for easy adjustment of consistency when working with epoxy-based products.
In addition to its thinning capabilities, No.7 is also an excellent choice for equipment cleaning. It effectively removes residues and ensures proper maintenance of tools and surfaces.
Moreover, No.7 boasts wide compatibility, as it works seamlessly with all epoxy-based primers and fillers. This versatility provides convenience and flexibility in various epoxy projects.
Experience the advantages of No.7: from efficient thinning and equipment cleaning to its compatibility with all epoxy-based primers and fillers. Trust in its reliability to enhance your epoxy applications