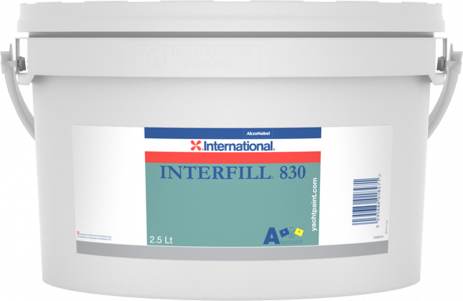 Epoxy filler Interfill 830 is the ultimate solution for profiling above and below the waterline on Steel, Aluminium, and Composite hulls. This special 2-component light grey epoxy offers unparalleled performance and versatility, making it a top pick for marine applications.
Key Advantages:
High Filling Capacity. With a remarkable 2cm (20,000 microns) thickness in one coat. 830 can handle substantial profiling without sagging or slumping, even at 23ºC.
Low Density Composition. The epoxy's low-density formulation ensures easy application and excellent coverage over large areas.
Strength and Impact Resistance. Filler exhibits exceptional strength and impact resistance, guaranteeing long-lasting and durable results.
Easy Sanding. Achieve smooth and flawless surfaces effortlessly, thanks to its easy sanding properties.
Waterproof Seal. As a fully waterproof epoxy, Interfill 830 provides an impenetrable barrier against moisture and corrosion.
Compatibility:
Interfill 830 seamlessly integrates with various coatings, including Interprime 820 high build epoxy primer, Interprotect, or Interprime 880. Once sanded, the surface becomes suitable for direct overcoating with these primers, ensuring a hassle-free application process.
Whether you need to profile large areas on Steel, Aluminium, or Composite hulls, Interfill 830 is your go-to solution for unmatched performance, smooth finishes, and outstanding waterproofing capabilities.
In case of any questions contact our representatives.