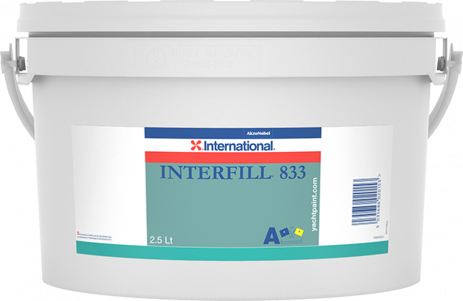 Epoxy filler Interfill 833 is the go-to finishing filler designed to correct minor surface defects, ensuring a flawlessly smooth surface before applying the final coat. This versatile filler is specially formulated for use over Interfill 830, enhancing its performance and providing a contrasting color for easy identification. Available standrad and fast hardener.
Key Features Filler Interfill 833:
Smooth Finish. Achieve an extra smooth finish, ensuring a professional-grade surface appearance.
Easy Sanding. This filler offers effortless sanding, saving time and effort during the application process.
Various Application Methods. Can be applied using a trowel, filling knife, or fairing batten, providing flexibility and ease of use.
Perfect Complement to Interfill 830. When used in combination with Interfill 830, Interfill 833 enhances its corrective abilities, ensuring a flawless foundation for the final coat.
Contrasting Color: The filler's contrasting color to Interfill 830 makes it easy to differentiate between the layers, simplifying the application process.
For achieving an immaculate surface free from minor defects, Interfill 833 is the ultimate choice. Its ease of sanding, smooth finish, and compatibility with Interfill 830 make it an indispensable tool for perfecting your project's surface before the final coat.