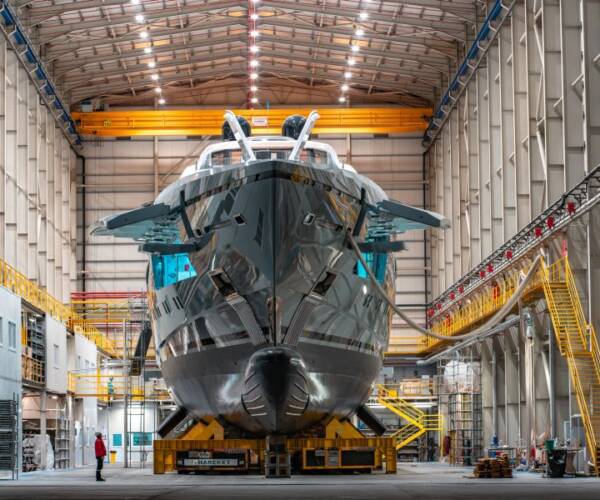 Tatiana Superyacht: A Masterpiece by Bilgin Yachts with Awlgrip and International Paints
Discover the unparalleled luxury and elegance of the Tatiana superyacht, meticulously crafted by Bilgin Yachts in 2021. This stunning vessel, designed by Unique Yacht Design, boasts exceptional features, making it a true gem in the world of superyachts.
Specifications
Powered by MTU engines, the Tatiana superyacht reaches an impressive maximum speed of 19 knots, while its cruising speed gracefully glides at 12 knots. With a remarkable range of over 3000 nautical miles, it offers an unrivaled cruising experience.
Luxurious Interior
The Tatiana superyacht can comfortably accommodate 16 passengers and boasts a dedicated crew area for 21 staff members. Inside, the opulence is evident with a lavish SPA and a spacious beach club featuring a 9-meter indoor swimming pool.
More about Tatiana Superyacht:
Bilgin Yachts takes immense pride in building three units of the 80-meter Bilgin 263 series. The first unit, Tatiana (also known as NB75), was unveiled in February 2020. Bilgin 263 series is renowned for its sharp exterior lines and stylish interiors, exuding a modern and sophisticated vibe. Luxurious blend of rich Makassar ebony, eucalyptus, and exquisite marble creates an unmistakable sense of grandeur onboard.
Unique Yacht Design's CEO and founder, Emrecan Özgün, describes the Bilgin 263 series as a true masterpiece. Boasting an elegant and contemporary profile that stands out in the yachting industry. Its ingenious design maximizes living space without compromising on aesthetics, setting new trends in the world of steel and aluminum superyachts.
Internationally acclaimed designer, Jonny Horsfield of H2 Yacht Design, has curated the Tatiana's stunning interior. Complemented it with modern exterior lines. The layout is thoughtfully designed. Offering spacious lounges, a vast SPA, and an inviting beach club on the aft deck. H2 Yacht Design's commitment to comfort, luxury, and functionality brings the owner's vision to life.
To learn more about the exquisite Tatiana superyacht and its awe-inspiring features, visit the official source: https://bilginyacht.com/