Awlcraft 2000 / Awlcraft 3000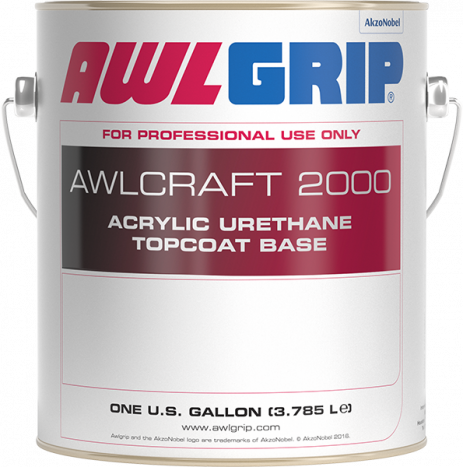 AWLCRAFT 2000 / 3000- Premium Polyurethane Finish for Stunning High Gloss Results
Awlcraft 2000 / Awlcraft 3000 is a top-of-the-line, two-component polyurethane finish renowned for its ease of application and ability to deliver a brilliant high gloss finish. Available in a wide range of colors, this premium finish offers enhanced color and gloss retention, ensuring your project maintains its stunning appearance over time.
Key Features:
Buffable, High Gloss Finish: Provides a buffable finish with a high gloss shine, adding a touch of elegance and sophistication to your project.
Fast-Drying and Easy to Apply: Boasts fast-drying properties, allowing for efficient application and reducing project turnaround time. Its user-friendly application process ensures a smooth and seamless finish.
Flexible Application with Wide Range of Reducers: Can be used with a variety of reducers, offering flexibility in application techniques and ensuring optimal results for your specific project.
Experience the superior quality and exceptional results of Awlcraft 2000. Elevate your projects with this premium polyurethane finish, known for its stunning high gloss and outstanding color retention. Achieve the flawless finish you desire with ease.
| | |
| --- | --- |
| Kod | AWLGRIP F SERIES|G3010 |

Do you have questions?

We will respond as soon as possible



See also

Other products in this category

Basecoat Awlcraft SE

Awlcraft SE – Revolutionary Basecoat with Unlimited Color Palette and Special Effects for Enriching Every Boat Awlcraft SE is a revolutionary basecoat that offers an extensive range of colors with special effects, designed to enhance any boat. This product is fast-drying and provides excellent coverage, …

Basecoat Awlcraft SE

Anticratering Agent Crater X

Crater-X is an exceptional anti-cratering additive specifically formulated to enhance the surface tension of Awlgrip and Awlcraft 2000 coatings, improving flow and leveling for a flawlessly smooth finish. This additive is designed for use with finishes only, providing outstanding performance and superior results. Key Benefits: …

Anticratering Agent Crater X

Awlgrip HDT Clear Base

Our Awlgrip HDT Clear Base – Premium Polyurethane Clearcoat with Unmatched Durability and Repairability is a top-of-the-line polyurethane clearcoat meticulously crafted to deliver superior quality. This exceptional clearcoat seamlessly combines hardness and micro-scratch resistance with the repairability of a softer coating, ensuring a flawless finish …

Awlgrip HDT Clear Base