Anticratering Agent Crater X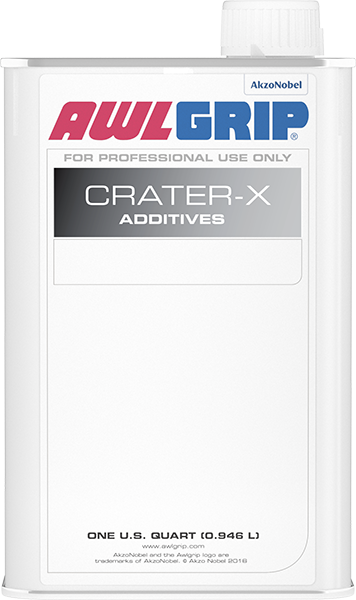 Crater-X is an exceptional anti-cratering additive specifically formulated to enhance the surface tension of Awlgrip and Awlcraft 2000 coatings, improving flow and leveling for a flawlessly smooth finish. This additive is designed for use with finishes only, providing outstanding performance and superior results.
Key Benefits:
Prevents Cratering, Crawling, and Fisheye Defects: Crater-X effectively prevents common surface defects such as cratering, crawling, and fisheyes, ensuring a pristine and professional finish.
Counteracts Minor Surface Contamination: This advanced additive counteracts minor surface contamination, enabling the coating to flow smoothly and evenly across the substrate.
Designed for Awlgrip Topcoat and Awlcraft 2000: Crater-X is specifically developed for use with Awlgrip Topcoat and Awlcraft 2000, ensuring compatibility and maximizing the effectiveness of the additive.
Experience the power of Crater-X to achieve flawless finishes. Elevate your projects with this anti-cratering additive, trusted to deliver outstanding results and eliminate surface imperfections. Enjoy a smooth and impeccable finish with ease.
Do you have questions?

We will respond as soon as possible



See also

Other products in this category

Non-Skid Griptex

GRIPTEX – Non-Skid Polymer Bead Aggregate for Safe and Slip-Resistant Deck Coatings Griptex is a premium non-skid polymer bead aggregate designed to provide a reliable non-slip coating for deck and step areas. This versatile product can be applied by spray or mixed with any Awlgrip …

Non-Skid Griptex

Awlgrip Topcoat

Our AWLGRIP TOPCOAT SPRAY – Premium Polyurethane High Gloss Finish for Exceptional Results Awlgrip Topcoat Spray is a top-of-the-line polyurethane high gloss finish designed to provide a superior appearance, exceptional chemical resistance, and hardness. This premium topcoat offers an easy mix ratio and can be …

Awlgrip Topcoat

Repair Awlgrip

AWLGRIP REPAIR – Trustworthy Solutions for Repairing Awlcraft SE and Awlgrip HDT Coating Systems When it comes to repairing Awlgrip HDT or Awlcraft SE coating system, Awlgrip Repair products provide the reliable solutions you need. Whether you're addressing a small scratch or conducting a large-scale …

Repair Awlgrip