Reducer T0005 Hot Weather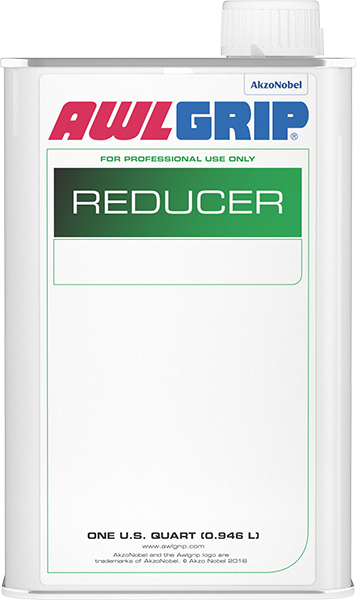 T0005 Hot-Weather reducer (thinner) recommended to use with Awlgrip finishes between 32-41°C.
T0005 is most often used as an additive, blended with other spray reducers to improve flow. This thinner is seldom the sole reducer. At lower temperatures (below  32°C) can be blended at any ratio with other Awlgrip topcoat reducers to improve flow with those products or increase the evaporation rate of reducer. T0005 has a very slow evaporation rate; using T0005 at temperatures below 24°C may result in very long dry and tape times.
VOC: 975 g/lt or 8.1 lbs/gallon
Warning: Large amounts of T005 in flat or semi-gloss products may result in higher gloss levels. Use care when adding T005 to these products.
| | |
| --- | --- |
| Kod | T0005 |
| Rozmiary opakowań | Galon, Qt, l |

Do you have questions?

We will respond as soon as possible



See also

Other products in this category

Reducer T0006 Epoxy

T0006 is  typical epoxy thinning agent designed for application alongside various spray-applied Awlgrip primers. Standard epoxy reducer for spray application of 545 Epoxy Primer, Awlquik, Sprayable Fairing Compound, Max Cor CF, High Build and Ultra Build Epoxy Primers. Also recommended for Hullgard Extra Epoxy Primer. …

Reducer T0006 Epoxy

Reducer T0002 Fast Spray

T0002 Fast Evaporating Reducer (thinner) for Spray Applied Topcoats. To use T0002 Reducer in: Awlgrip Awlcraft 2000 Awlcraft SE Topcoats When application and cure temperatures are between  13-21°C the reducer will keep the paint film open but evaporate fast enough to provide adequate dry and dust-free …

Reducer T0002 Fast Spray

Awlprep 400 T0170

T0170 Awlprep 400 is a versatile wiping solvent specially formulated for removing hand oils, greases, and other light surface contaminants from finished surfaces before and after sanding. It is highly recommended for use on warm days. Slower evaporation rate compared to T0008, providing extended working …

Awlprep 400 T0170