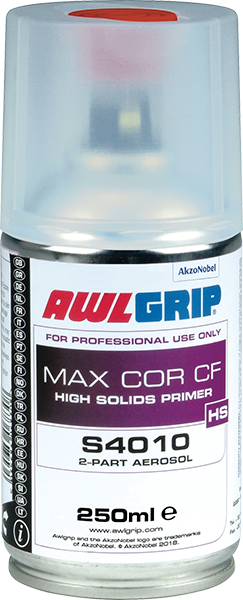 Experience the convenience of Max Cor CF 2K Aerosol
The 2K aerosol counterpart of the renowned Max Cor CF epoxy primer. Specifically formulated for aluminum and steel surfaces, this two-component chromate-free primer excels in chemical and solvent resistance, surpassing standard spray coatings.
Max Cor CF Aerosol utilizes Controlled Fusion (CF) technology, providing extended re-coat times, enhanced substrate adhesion, and minimized sanding requirements, resulting in a streamlined and efficient application process.
With anti-corrosive pigments incorporated into its formula, this primer ensures exceptional system longevity by effectively combating corrosion. Its impressive adhesion properties make it an ideal choice for aluminum and steel substrates, establishing a strong and durable bond.
Furthermore, Max Cor CF seamlessly integrates with Hullgard Extra. You can directly overcoat this primer with Hullgard Extra, simplifying your coating process and guaranteeing a flawless transition between layers.
Choose Max Cor CF 2K Aerosol for its superior chemical resistance, remarkable adhesion, and compatibility with Hullgard Extra. Elevate the protection and durability of your aluminum and steel surfaces with this advanced aerosol epoxy primer.